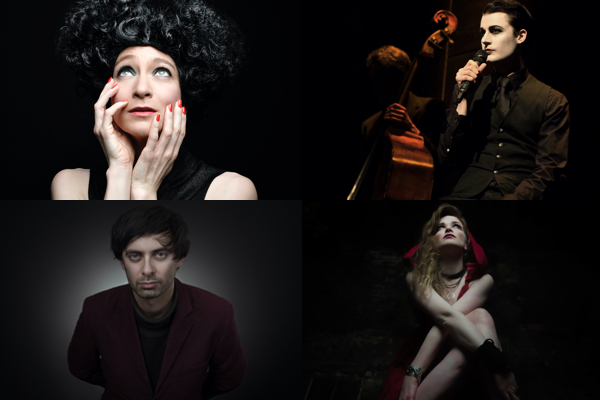 A season of cabaret confections and the chance to catch exclusive full length performances from esteemed members of the Salon des Artistes.
*
The Black Cat gang is returning to Crazy Coqs at Brasserie Zédel in September 2020 for a series of weekly shows celebrating the brightest luminaries in the cabaret firmament! We have been working with the venue team to plan these intimate, table-seated events with full social distancing in place. Welcome one and all to the Autumn season!
*
September 5th 9:30pm – The Black Cat presents Marcel Lucont
The UK's favourite Frenchman Marcel Lucont (Comedy Central, Sky Atlantic's Set List, BBC3's Live At The Electric) presents some classic routines, chansons and poetry, alongside some new oeuvres penned during lockdown. After several sell-out seasons of Cabaret Fantastique down at Crazy Coqs, enjoy a solo show from the man himself, imparting wit, wisdom and wine advice with typical Gallic insouciance.
"Fresh, accessible and hilarious" – Guardian
"Excellently dry" – The Times
"Wonderful French wit… superb stuff" – Time Out
Tickets £22.50 + booking fee (tables of 2, 3 or 4 available)
*
September 12th 9:30pm – The Black Cat presents Carol Cates
Spend an evening with the multi-talented, award-winning Carol Cates as she performs her Edinburgh Fringe hit show 'Tell Tale' in full. Having performed as Lady Carol around the world for over a decade, this quick-witted, power house performer has seen it all and is in two minds about any of it. With heartfelt takes on other people's songs that strike a chord with audiences and her own witty, thoughtful and laugh out loud original stories and songs she will whisk you away on a journey you'll not forget.
"One of the biggest voices you'll ever hear" – BBC
"Reduced me to tears and fits of giggles simultaneously" – Three Weeks
"Pitch-perfect singing and hilarious" – Edfest Mag
Tickets £22.50 + booking fee (tables of 2, 3 or 4 available)
*
September 19th 9:30pm – The Black Cat presents Dusty Limits & Michael Roulston
Dusty Limits and Michael Roulston have been writing and performing together for twenty years, from Edinburgh to Adelaide to London and beyond. Heaven or Hell (or Highgate) is the culmination of their musical friendship. These are songs of wit and passion, black humour and bawdy hilarity, in an eclectic range of styles sung with passion and elan. Fans of the Tiger Lillies, Fascinating Aida and The Divine Comedy should attend. The show contains sex and drug references, some scathing satire, and a degree of artistic profanity.
"The Trailblazer" Time Out
"One of the foremost practitioners of the art of cabaret… If only the show was twice as long" – The Scotsman
"Cabaret with fangs" – Canberra Critics Circle
Tickets £22.50 + booking fee (tables of 2, 3 or 4 available)
*
September 26th 8:30pm – The Black Cat presents La Poule Plombée
Award-winning musical character comedy from Sarah-Louise Young and Michael Roulston. Funny, tragic and compelling, Je Regrette! is the story of La Poule Plombée, a French singer tortured by jealousy and unrequited love. Propped up by her hen-pecked pianist Mumu, she weaves her darkly comic tale with beautiful original music and stunning vocals. Written and performed by the creators of Roulston & Young, Julie Madly Deeply and Cabaret Whore, this show was a smash hit at the Edinburgh Fringe, winning The Stage Award and an Argus Angel Award.
"Incomparable" – The Stage
"A delightful mixture of the comic and bittersweet" – Musical Theatre Review
"An effortlessly slick send-up of chanson…a masterclass in character comedy" – Broadway Baby
Tickets £22.50 + booking fee (tables of 2, 3 or 4 available)