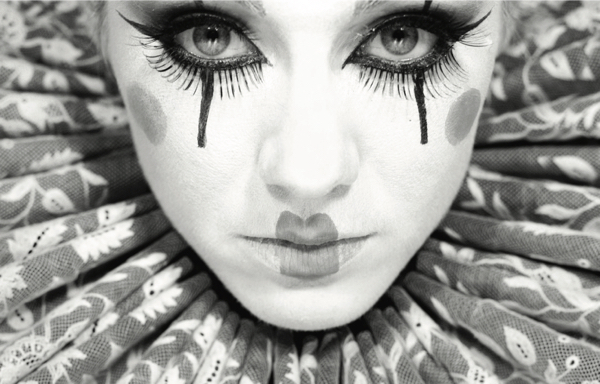 KATHARINE ARNOLD – DANGER K
Katharine is a multi-disciplinary performer and aerialist who has performed internationally across live events, cabaret, theatre, film and TV. She is also a choreographer, actor and circus consultant and has just finished shooting on Disney's remake of Dumbo with Tim Burton, as Eva Green's double. She was choreographer on The Lyric's production of Tipping The Velvet as well as circus choreographer for the 2012 Olympic Games opening ceremony. Katharine is also Black Cat: Bohemia's Circus Director and Choreographer.

LAURA CORCORAN – FRISKY
Miss Frisky is one of the biggest voices in international cabaret. Perhaps best known for her exploits with partner Mannish – Frisky & Mannish have been seen and heard on BBC Radio 1, BBC Radio 4, BBC 3 and E4, and toured around the world, from the Shepherd's Bush Empire to the Sydney Opera House, from Hong Kong to Burnley. She has also been part of the Olivier Award-Winning La Soirée, Palazzo and new creations with Briefs, Adelaide Cabaret Festival and Miss Polly Rae.

LEON FAGBEMI – THE MAESTRO
London-based Leon began training in gymnastics at the age of 9 and had a competitive career spanning over 15 years. During this time, Leon attained many regional, national and international titles as well as being a member of an internationally recognised gymnastics. After his competitive career, Leon began teaching gymnastics as well as performing professionally in the world of circus and cabaret. He has performed in various places from Fringe festivals in Perth to London's West End, and many destinations between.

HAYLEY HARVEY-GOMEZ – MISSY FATALE
An internationally acclaimed Burlesque & Fire artiste, and one of London's most sought after cabaret stars, Missy has captivated audiences across the world with her classic burlesque, snake charming & hypnotic fire performances for over a decade. A Black Cat Cabaret mainstay, she also holds an elite client base inclusive of Gucci, Sotheby's, British & Saudi Royalty, The Serpentine Gallery, Hollywood producers Ridley Scott Associates, numerous celebrities, London Fashion Week & Dom Pérignon.

NICOLAS JELMONI – THE KNAVE
Born and raised in Monaco, Nicolas grew up doing gymnastics and diving. Always passionate about circus and performing he joined the San Francisco Circus Center before moving to Montreal and graduating from the National Circus School in 2014. Since starting his performing career on Broadway in PIPPIN he has toured the world with Cirque du Soleil, The 7 Fingers, Cirque Éloize and recently finished a run at Sydney Opera House and Australian tour with Limbo & Limbo UNHINGED. @njelmoni

LJ MARLES – THE KNAVE
London boy Lj fell in love with circus after taking part in a youth project run by Bassline Circus at 17. He went on to study at the National Centre for Circus Arts where he trained in Aerial Straps and then developed his unique apparatus Tension Straps. Since graduating in 2012, Lj has performed all over the world with companies such as The 7 Fingers, Silver Lining, La Soiree and 45 degrees (a division of Cirque du Soilel). Lj also participated in international circus festivals Cirque de Demain (Phenix award) and Young Stage (Silver Star & Europa-Park engagement).

CHARLOTTE O'SULLIVAN – CHARLOTTE

Charlotte was born and raised in Toronto, Canada as a provincial gymnast with a desire to perform and entertain. After graduating the high school program of the National Circus School in Montreal she joined the college program as a hand to hand flyer and graduated with her partner Nicolas in 2014. Since then she has performed in countless productions such as: PIPPIN on Broadway (The 7 Fingers), Cirkopolis (Cirque Éloize), Joyá (Cirque Du Soleil), Limbo & Limbo UNHINGED at the Sydney Opera House (Strut and Fret). @charlottegosullivan / @charlotteandnicolas

JO MOSS – SLIPPIN' JO
Recently graduated from the Royal Academy of Dramatic Arts, Jo brings his physical prowess and natural flair for acting to the stage. An international flaneur with a sky diving licence, a power boat licence and still no car licence, but Jo is a dab hand at the Wheel. Since graduating from Ecole Superior des Arts du Cirque (ESAC) in Brussels Jo has worked with some of the best companies around the world. Currently working with Robert Wilson on a new show in Paris, Jo also has his own theatre company, New Public, making circus and theatre in the capital. @j0m0ss